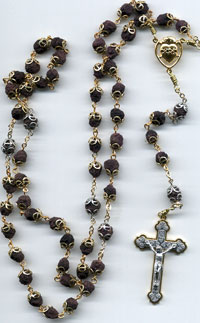 Beautiful handcrafted rosaries made from real rose petals! The roses can be from a once in a lifetime event such as a wedding, funeral, anniversary, birthday, or just from your garden. My rosary products are offered at very reasonable rates so everyone can have a keepsake of that special occasion.
It will take about one dozen average sized roses to make one rosary. The petals can be fresh or dried and you can hand deliver or mail them to me. If mailing your roses, place them in a plastic bag inside a sturdy envelope, tape the ends closed, and include a return address & phone number.
All rosaries come in a heart shaped plastic gift box including a "Pray the Rosary Daily" leaflet.
It will take 2 to 3 weeks to process your order, sometimes longer. I will call you when the roses arrive and before I send the rosaries back to you. If you need more information please call 815-933-9227 or email me at anytime.
Thank-you and welcome!
- Kathy
Click here to see all of my rosaries
"I just wanted to thank you again for doing so a wonderful job. It was the best Easter that I have ever had...and my grandfathers also. That meant so much to him. He said you did an excellent job, and he sends his thanks...That was so wonderful to see him open that!! He was showing everyone! Thank you so much. He will always hold that near and dear to his heart. Thanks for making this Easter the best yet! Take care, and thanks again." - The Bush Family!