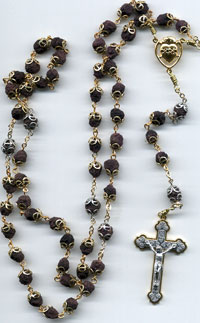 Beautiful handcrafted rosaries made from real rose petals! The roses can be from a once in a lifetime event such as a wedding, funeral, anniversary, birthday, or just from your garden. My rosary products are offered at very reasonable rates so everyone can have a keepsake of that special occasion.
It will take about one dozen average sized roses to make one rosary. The petals can be fresh or dried and you can hand deliver or mail them to me. If mailing your roses, place them in a plastic bag inside a sturdy envelope, tape the ends closed, and include a return address & phone number.
All rosaries come in a heart shaped plastic gift box including a "Pray the Rosary Daily" leaflet.
It will take 2 to 3 weeks to process your order, sometimes longer. I will call you when the roses arrive and before I send the rosaries back to you. If you need more information please call 815-933-9227 or email me at anytime.
Thank-you and welcome!
- Kathy
Click here to see all of my rosaries
"Dear Kathy, The rosaries arrived in the mail yesterday. They are beautiful! My wife couldn't have been happier. She has had precious little to smile about since her mother died but when I handed her the rosary she just held it to her heart and smiled. She asked me to write you and thank you for making such a beautiful memento. The rosary is even more precious since her mother made a death bed conversion and one of the reasons her mother gave was the feeling of peace that came over her as we prayed the rosary while she was so desperately ill. She told me that the rosary was the most powerful vehicle to bring her closer to Christ because of its simplicity and beauty. They say angels come in many disguises, we are glad we were guided to you. I think it is wonderful that you have the talent to do what you do. I am sure your life will be richly rewarded. Thank you for helping my family in our time of grief. Sincerely, Richard------ P.S. When someone we love passes from this world, it can ease the pain to realize we have not lost a friend or loved one, we have gained an angel."